Funeral Meals

Ministry

Cook Book
Established in 1982, the purpose of our organization is to enrich the religious life of the women of the parish through spiritual, social and philanthropic projects. All the women of the parish are members of the Seton Women's Club and have the chance to make that connection with God, perform service for the Parish, and build supportive friendships.
Along with continuing our great services for this parish and community, our two main goals are:
Getting the word out about what ministries we offer and how you can get involved
Creating opportunities for members of ALL ages to connect.
So Ladies, we hope to see you soon!
If you would like to register to be a member, please click
here
to print the form.
For more details on the Women's Club, please click
here
to view our brochure.
  Join Us On FaceBook
Upcoming Events (2016)
Evening of Reflection Sept 19
Trivia Night October 25
Bake Sale Nov 19/20
Advent By Candlelight Nov 29
Christmas Tea Dec 6
SEAS Women's Club Newsletters
We Need YOUR Ideas!
We are always looking for new events for our members, so if you have an idea,
click here to send your ideas to the Women's Club.
SEAS Women's Club Board 2016-17
Ministries 2016-17
 The Seton Women's Club uses SignUp-Genius to organize volunteer sign-up activities for funeral meals and other events.  Click the button below to join SignUp-Genius - all you need is an email address and a password.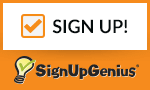 Thank-You's
"I was so touched when I walked into Joe's room at The Forum last Saturday.  We have not been in the parish long enough to get acquainted, and Joe's illness has precluded my active involvement in community affairs.  It is impossible to tell you how comforting this outreach was.  Please express my gratitude to all the ladies, and I look forward to meeting many of the SEAS Women's Club members one of these days"
"Thank you!!  You made my day.  God Bless"
"...  I was the winner of the iPod drawing.  I would like to thank you for being the sponsor of the iPad.  I admire you and look up to you for your generosity.  Thank you."
"Thank you so very much for your thoughtfulness and prayers.  I enjoyed my visit with Denise until we were alerted by my neighbor that she might get a ticket for wring-way parking.  Sorry Denise, you had to leave, but you saved $50." 
Recent Women's Club Activities in Photos
Wine & Canvas Night